Show your support for our supporters by using their services, buying their products or donating to their cause(s). Without these people and organizations we would not be able to do the much needed work we do to challenge corporate rule. Let your friends know about our supporters too. Thank you!
Our Supporters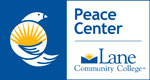 The Lane Peace Center is in its second year of existence at Lane Community College. The idea for the Peace Center emerged in 2005 to meet the clear need to teach peace in a world beset by war, racism, poverty, and environmental destruction. An initial call was made to the College community. The response was strong and positive. As a result work began and the LCC Peace Center a reality.
The current projects include:
Developing a multidisciplinary Associate of Arts Transfer (AAOT) Degree in Peace Studies which would meet the transfer requirements to Oregon Universities.
Developing credit-based certificate programs in Peace Studies to meet the needs of the businesses, organizations, and community members in Lane County.
Peace Center speaker series with guest lecturers throughout the year
An annual "Peace and Democracy" Conference which will bring recognized speakers, authors and peace activists to the Peace Center.
Supporting peace events and prominent peace workers to speak at Lane Community College
Bringing recognized scholars or peace workers to serve as educators for peace to the Lane faculty, staff, and students.
Providing an institutional resource base for peace educators and activist in the Lane County area.
---
Web Development Technical Support:
---
---
The Green Home Artisans Company
---
Unique3DDigital.com
Nature, Ocean, Science and Seasons 3D Animated and Slide Show Screen Savers